Vocal Coaching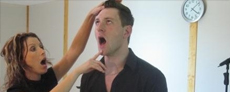 Vocal Assessment/ First Lesson
New students are assessed before commencing lessons to determine the strengths and weaknesses of their voice, in order to devise a program to suit your needs.
The first lesson, takes the form of a vocal assessment which runs from 45-90 minutes. This assessment is to evaluate vocal range, breath support and management, pitch and intonation, articulation, and basic musicianship, style interpretation etc. and also to ascertain if there are any potential vocal health problems.
New students are free to sing their own songs in the assessment.
Voice Training Methods
Voice training include practices with various Sargam, renditions of notes up and down in various
combinations, Voice throws, correct pronunciations of the lyrics, Creating appropriate feel and emotion
for particular lyrics and compositions.
All the voice oriented lessons are accompanied by Tanpura, Keyboards, Harmonium or individual singing tracks.
We also use various music and computer technology and rhythmic instruments.
Every individual has unique voice culture and husk, vocal range and styles. All our lessons are tailor made
for each individual depending upon their vocal strength, stamina and skill.
Our aim is to reinforce your singing capability to transform into a versatile singer that can display intense emotion with the most appropriate feeling for recording studios, auditions, live performances and playback singing.
Private Lessons
We offer Private lessons in vocal coaching. Normally private one on one lessons allows students to progress
at their own pace and learn gain the best knowledge of vocal and breathing techniques.
SIMDA offer lessons throughout the whole year, so there's no reason to wait to get started, you can join us anytime. A variety of styles and techniques are taught at SIMDA.
• One Lesson of 30 minutes – Costs from $17 to $27
• One Lesson of 45 Minutes – Costs from $27 to $37
• One Lesson of 60 Minutes – Costs from $37 to $47
Group Lessons

We offer slightly different curriculum in Group Lessons as compare to our private one-on-one classes.
But we make it sure; all the important principles are covered in group classes whatsoever we teach in
Private Lessons. These include: increasing your voice range, pitch and listening notes, confidence building, appropriate vocal and breathing technique, stage performance and presentation, and how to interact with crowd while performing.
Through group singing classes, all students will be given the correct vocal warm up techniques, vocal sargams, and a timetable to practice at home.
• $16 x Session of 10 = $160 for under the Age of 16 (sixteen) per person
• $19 x Session of 10 = $190 for over and inclusive the Age of 16 (sixteen) per person
Online Lessons

SIMDA assures you that we are keeping up with the latest ground- breaking technology so we can give you
the highest quality vocal coaching online. Our vocal coaching lessons that are conducted online are no
different from our private lessons in our Melbourne locations
All you need is a good computer or notebook, a good internet connection -preferably wired- a set of headphones or a pair of speakers with a web cam.
More experienced students may also try lessons over the telephone.
Online lessons are perfect for you if you live too far away from our locations or if you cannot spare time
from tight schedule to attend a lesson.
Comprehensive Half day or Full day Singing Workshops
It's perfect for people who live interstate or cannot find time in their schedule who want to cover a large amount of training.
The course will start with a brief chat and discussion about what you want to achieve out of the course and then a thorough vocal assessment. The rest of the course will then be customised personally to work on the points that are most clinical to achieve maximum vocal results in the allocated time.
The choice is always yours to work on whatever you wish in your class; though Our teachers will give you
their professional opinion about what should be done and where the class should be heading to achieve maximum vocal results.

Now available, Online Workshops