Harmonium Lesson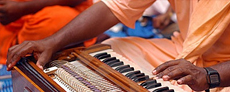 Harmoniums are essentially keyboards, so our approach will be a blend of the classical Harmonium as well lessons on an electronic keyboard.
SIMDA offers Harmonium lessons in the form of a private, paired, group or online class in Glen Waverley and other locations. Harmonium can serve a great hobby for your spare time or if you wish, it can enrich your musical talent and spiritual connection.
Our aim is to teach you the correct technique and flow in playing Harmonium with percussion and rhythm instruments. From our diverse range of Harmonium lessons, you will learn to play Ragas, Bhajans, Shabad Kirtan and Bollywood songs. In addition, we can even teach you the songs of your personal choice and taste.
The lessons are based on the traditional training imparted by classical Indian music gurus blended with a contemporary style of teaching.
Students may start lessons at any time of the year or month, so there's no reason to wait to get started.
Private Lessons
Private lessons are offered on a one to one basis on Harmonium. We have found that private one on one instruction allows students to progress at their own pace and gain the best understanding of Harmonium. Students that are below the age of eight are encouraged to learn a blend of electronic keyboard and Harmonium. Later they can choose to continue with Harmonium or keyboard, or both. However, it all depends upon the capability of the student.
• One Lesson of 30 minutes – Costs from $17 to $27
• One Lesson of 45 Minutes – Costs from $27 to $37
• One Lesson of 60 Minutes – Costs from $37 to $47
Group Lessons
Our group classes follow a different curriculum to our private one-on-one classes. They are run in a fun, relaxed, format with a strong emphasis on teamwork and support from your classmates.
All of the important principles covered in our private Harmonium lessons will be covered in group classes. These include: pitch and ear training, confidence building, correct technique, stage presentation, audience interaction and performance skills.
• $16 x Session of 10 = $160 for under the Age of 16 (sixteen) per person
• $19 x Session of 10 = $190 for over and inclusive the Age of 16 (sixteen) per person
Seniors Harmonium Lessons
The Seniors Harmonium course is perfect for older beginners, people who want to pick up where they may have left off many years ago or to have a fun and relaxing hobby.
There are many tremendous benefits for seniors to gain from learning the Harmonium. People say music is good for your soul, but we now know music has a powerful effect on the brain and can enhance memory, motor coordination and communication. After a busy life, why not learn to play a Harmonium in your retirement. It is the ideal activity to enrich your life.
SIMDA believes that music is a lifelong activity and there are no rules that say you can't learn at any age. Our teaching methods and experienced teachers will ensure you have a fun and interactive experience.
Students will learn
Harmonium exercises and finger warm ups
Indian Classical Music Theory (Swars, Sargam, Ragas)
Music Appreciation - share your favourite music under the experienced guidance of your teacher
Online Lessons

SIMDA assures you that we are keeping up with the latest groundbreaking technology so we can give you the highest quality Harmonium lessons online. Our Harmonium lessons conducted online are no different from our private Harmonium lessons in our Melbourne locations.
All you need is a good computer or notebook, a good internet connection -preferably wired- a set of
headphones or a pair of speakers with a web cam.
Online lessons are perfect for you if you want to learn the Harmonium if you live too far away from
our locations or if you cannot spare time from tight schedule to attend a Harmonium lesson.
Comprehensive Half Day or Full Day Workshops
It's perfect for people who live interstate or cannot find time in their schedule who want to cover a large amount of training.
The course will start with a brief chat and discussion about what you want to achieve out of the course and then a thorough assessment on the Harmonium. The rest of the course will then be customised personally to work on the points that are most clinical to achieve maximum results on the Harmonium in the allocated time.
The choice is always yours to work on whatever you wish in your class; though our teachers will give you their professional opinion about what should be done and where the class should be heading to achieve maximum Harmonium results.

Now available, Online Workshops