Music For Children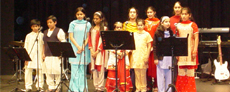 About The Course:
The Music for Children course introduces children to the fundamentals of music at a young age. It provides the foundation for any children pursuing at a later age. The aim of this course is to develop a sense of musical expression and creativity in children through Indian music.
Through this course, you and your child will enjoy the power of Indian music and will find a great way to bond through India's rich art and cultural heritage. The course has fun activities and explores Indian musical
concepts in a manner that is simple to comprehend. Music for children will instill the importance of
self-discipline and social skills in your children.
Basic Requirements:
No previous training or skills required
A parent or sibling must accompany the child at all times
Course Contents:
• Teaching variety of Bollywood or spiritual songs
• Discovering child's music potential
• Educating through audio and video aides
• Introduction to music at a young age
• Share and learn your favourite songs
• Familiarising children with Indian Ragas, Taals and rhythms.
• Singing, keyboard and harmonium playing
• Training voice along with Tanpura sounds
• Breathing technique and associated exercises
• Singing postures and alignments
• Vowels and lyrics pronunciations
• Pitch and ear training
Expected Results:
• Developed musical confidence, thinking power and communication skills
• Awareness of notes, pitches and vocal ranges
• Understanding of lyrics
• Expression of music together with a parent or sibling.
• Improved sustenance of notes and voice control
• The ability to modulate and project voice
• Resistance to voice cracks and breaks
Duration and Pricing:
Cost - $299 (One person), $399 (Two Person), $499 (Three Person)
Duration - 10 Lesson x 30-45 Min
For Enrolment or Any Further Enquiries Please Contact:
A & N Moudgil: 61-404989336, E: simda1994@hotmail.com, www.simda.com.au

Now available, Online Workshops