Chak De Dholi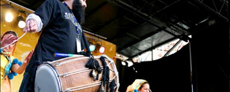 About The Course:
The Chak De Dholi! course is primarily created for those who want to learn the North Indian art of playing the Dhol. The Dhol is a primarily Punjabi instrument that dates back to the 15th century. Nowadays, the Dhol is used to perform at Weddings, Mehndi Nights, Sangeet Nights, Parades, Dinner and Dances, Charity Events, Fashion Shows, Club Events or at any other type of community event. In addition, the Dhol is increasingly
being fused with electronic DJ tracks to be used at DJ nights, clubs and parties.
Through this course, you will learn to provide impeccable performances on the Dhol in front of a crowd, large or small. This course provides the specific trade secrets and skills utilised while presenting their Dhol playing. If you aspire to find a career in playing Dhol as a profession, or learn as a hobby, this course is for you.
Basic Requirements:
Any previous formal or informal singing, instrumental or performing knowledge and skills in Indian music or percussions. (Recommended but not compulsory)
Course Contents:
• Introduce the roots of Bhangra – a folk tradition from the Indian state of Punjab.
• Understanding beats and rhythms through concept of timing
• Lesson taught through written scripts
• Familiarising students with Indian Music, Taals and rhythms
• Playing Dhol to your favourite Bollywood or Punjabi songs
• Improvising new chanting and clapped chaal rhythms
• Application of Dhol knowledge and skills to accompany DJs in DJ Nights, Clubs and Parties
• Effortless and relaxed playing techniques
• Dhol playing postures and alignments
• Playing strength and stamina
• Pitch and ear training
• Performing in various climates and conditions
• Overcoming fearful thoughts of negative past experiences and feedback etc.
• Dhol maintenance during long travel and tiring tours
• In-house Performance Experience
• Breathing technique and associated exercises while playing Dhol
• Crowd Engagement and Interactions
• Suitable stage body language, facial expressions, clothing and make up
• Develop both hand playing proficiency
• Learn to play Dhol in a variety of styles
• Awareness of notes, pitches and vocal ranges
Expected Results:
• Knowledge of Dhol drum history and Indian percussion instruments
• Ability to bring life and excitement to any occasion
• Experimenting Dhol with different kinds of music
• Using voices and clapping to form beats, with or without Dhol drums.
• The ability to modulate and project Dhol sound
• Improved Dhol clarity and quality of sound
• Eliminated performance anxiety, stage fright and nerves
• Boosted Morale and Confidence
• Unlocking each individual's musical talent
• The ability to endure long periods of Dhol playing
• Skill of playing Dhol with Boliyan and Tappe
Duration and Pricing:
Cost - $299 (One Person), $549 (Two Person)
Duration - 10 Lesson x 30-45 Min
Course can be fast tracked in Full Day and Half-Day Workshops
For Enrolment or Any Further Enquiries Please Contact:
A & N Moudgil: 61-404989336, E: simda1994@hotmail.com, www.simda.com.au

Now available, Online Workshops