Punjabi Folk & Bhangra Music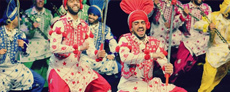 The Punjabi Folk & Bhangra Music! course is primarily designed for those who want to learn Punjabi Sufi, Folk, Film, Pop and Bhangra Music. The most precious part of Punjabi cultural heritage is the folk songs, which are divided in various categories: Lok geet, marriage songs, ghorian, shadi da bhangra, lorian, khedan, boliyan, tappe, muhaawre etc.

There is a wide range of folk songs for every occasion from birth to death including marriage, festivals, fairs
and religious ceremonies.

At present, Punjabi music is being used to perform at Weddings, Mehndi Nights, Sangeet Nights, Parades,
Dinner and Dances, Charity Events, Fashion Shows, Club Events or at any other type of community event.
In addition, the Punjabi Songs are increasingly being fused with Bollywood songs in Indian Film and Music Industry.

Through this course, you will learn about the broad spectrum picture of Punjabi social customs and culture,
to provide impeccable performances in singing Punjabi songs of all types and genres, in front of a crowd,
large or small, recording singles or music album. This course provides the knowledge about global Punjabi
Music industry, with a mixture of traditional and western sounds, beats and rhythm.

If you aspire to find a career in Punjabi Music as a Singing professional or want to learn Punjabi songs to
perform among family and friends, this course is for you.

Basic Requirements:

Any previous formal or informal singing, instrumental or performing knowledge and skills in Indian music or percussions.

Course Contents:

• Introduce the roots of Bhangra – a folk tradition from the Indian state of Punjab.
• Understanding beats and rhythms through concept of timing
• Familiarising students with Indian Music, Taals and rhythms
• Singing to your favourite Punjabi songs
• Application of Dhol knowledge and skills to accompany DJs in DJ Nights, Clubs and Parties
• Effortless and relaxed singing techniques
• Singing strength and stamina
• Pitch and ear training
• Performing in various climates and conditions
• In-house Performance Experience
• Breathing technique and associated exercises while Singing
• Crowd Engagement and Interactions
• Suitable stage body language, facial expressions, clothing and make up
• Awareness of notes, pitches and vocal ranges
• Voice production from abdomen, chest, throat, nasal and temple
• The mechanics of Voice Modulation
• Increase your vocal range and flexibility between high and low notes
• Voice throw, projection and Microphone Techniques
• Appropriate emotion display
• Vowels and lyrics pronunciations
• Basics in Recording, Stage Presentation, Performance and Karaoke singing


Expected Results:

• Knowledge of Punjabi Musical History and Indian percussion instruments
• Ability to bring life and excitement to any occasion
• Eliminated performance anxiety, stage fright and nerves
• Boosted Morale and Confidence
• Unlocking each individual's musical talent
• Updated knowledge of Boliyan and Tappe
• The ability to endure long periods of singing
• Versatility in rendering higher and lower notes
• Improved sustenance of notes and voice control
• The ability to modulate and project voice
• Resistance to vocal injury
• Ease in singing higher and lower pitches
• Improved voice throw, clarity and quality
• Strained voice prevention
• Resistance to voice cracks and breaks
• Maintenance of consistent voice intensity


Duration and Pricing:
Cost - $299 (One Person), $549 (Two Person)
Duration - 10 Lesson x 30-45 Min
Course can be fast tracked in Full Day and Half-Day Workshops
For Enrolment or Any Further Enquiries Please Contact:
A & N Moudgil: 61-404989336, E: simda1994@hotmail.com, www.simda.com.au

Now available, Online Workshops